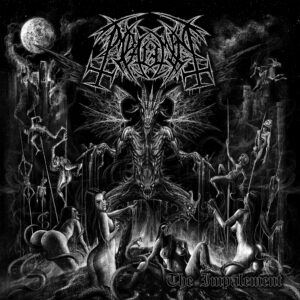 Released: 30th April 2020


"The Impalement" is the debut Black/Death-Metal Blastwerk from IMPALEMENT, released on Walpurgis Night, 30th April 2020.


Tracklist:
01. The Impalement
02. The Tombs Of The Saints
03. Within The Court Of Rats
04. Alma Pater
05. I Am All
06. Satan's Fire In My Eyes
07. Thus Spoke I – Götzendämmerung
The album comes with a 16 page booklet, containing 7 unique song-associated handdrawn illustrations.
Recorded during March and September 2019 at the AMP Studio, Duisburg (Germany).
Lineup:
Beliath – Vocals, Guitars, Bass
Torturer – Drums (Studio)
Mixed and Mastered by Jens "Pestilence" Förster
Cover Artwork – Carlos "Black Shadows" Aguilar
Layout/Booklet – Yvonne "Iron Ivy", Jens Förster
Guitar Solo ("Satan's Fire In My Eyes") – Helmuth Lehner
Spoken Words ("I Am All") – Sarah Jezebel Deva